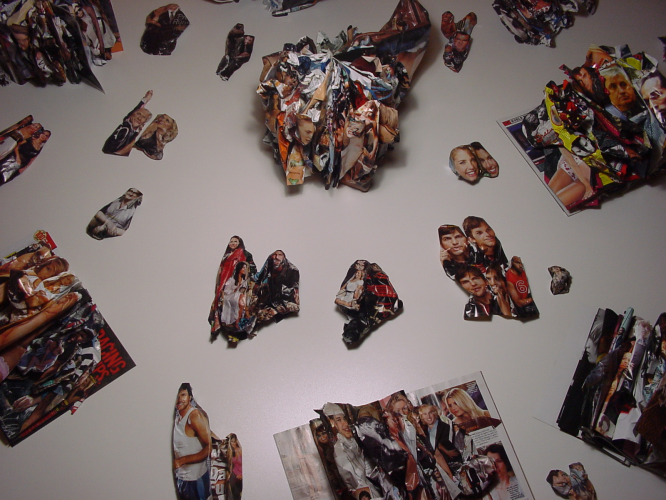 Magazine Sculptures

people magazines, crumpled people, a reality sculpture project. i started to fold and crumple magazines, in 2006 in berlin, the first magazine was made on an impulse, without any idea or desire of a result. My folds where chossen by the human content of the magazines, folding away everything but the humans. After finishing this first magazine. I decided it would be interesting to try folding other magazines keeping only the rule of splendid fake breitling colt watches leaving only humans visible. The 3rd magazine was a W (image coming soon)and i folded every page creating the circular shaped ones similar to what you can see below.
Folding magazines for me is taking a break from my hours working on the computer virtually. Using my hands to sculpt, to transform replica watches uk reality, has become a new part of my life. As a child i spent years(hours) making hand made ceramics, Sculpting magazines although not as sensual brings me closer to this forgotten pleasure.
My wife and artist Anna Chkolnikova, is the most direct influence in my research on reality sculpting. specifically one work called "if there is fire we want water" (link)
I also rediscovered recently that i had allready crumpled porn magazines, in 2000 and then taken pictures of them, the effect was very similar to the crumpled magazines. (image coming soon)
Humans are the most common image seen in almost all visual communication. The woman on the billboard, the celebrities in the magazine, and the models in the perfume ad, all seem very distant from us. I forget that this images are actual people somewhere sleeping eating shitting like the rest of us. with parent and friends lovers and children, bad moods and good moods. The facination for pretty people, followed by camera men all over the world has always amazed me. The power of image to transform a human being into an icon,(link iconeat) worshipped by the masses.
replique montre de luxe | Replique Breitling | Replique Montre | Rolex Replique Montre
in people magazines, faces and bodies are transformed, stick out, mutate, bent and wrinkled, all the humans in the magazine become visible together part of a strange mass of paper. Many people do not believe that these sculptures are just magazines, that i do not cut or add, only fold. Even more surpirsing is taking one of these sculptures into your hands, and realizing that it is light and fluffy, not at all like the sensation of the original magazine. The sculptures to many viewers also seem fragile, unstable prone to change, yet the act of folding all the pages creates a structure and rigidity which is surprising.
i do not know how or where i will show the magazines in reality yet, (if you are in berlin feel free to drop by and see them in my room. (image soon) there are currently around 23 folded magazines, and i have a pile of 200 magazines ready to be folded.(as doing the same thing over and over again can be quite boring i do not know how or when these will be transformed. (as of now 06/07 new techniques have spawned 5 more)
if you like, The magazines can be purchased individually for now, 4 of them have allready found homes.
the price is calculated by removing the . in the original magazine price.
ex: 2.50 = 250 , 15.30 = 1530
in general the more expensive the magazine the thicker and better quality paper it is made of, this facto also effects the way and type of folds. (there are some really cheap famous replica rolex cosmograph daytona celeb magaziness 1.20)
if you are interested in a magazine or one of the photos of the magazine (credit: ludovic jecker) feel free to contact me.
rolex replica
as with all art purchased from benjiart,(conditions may vary) 50% of the price will be directly invested into creating another art work.